Hand electrical strapping tools for PP and PET straps
These strapping tools are ideal for pallet and large loads strapping.
Polypropylene (PP) or polyester (PET) straps are used; no clips are needed. Seals by friction welding, seal strength up to 300 kg for PP strap and up to PET strap.
Battery powered hand strapping tools are suitable for mobile use without need of electric power supply (halls, yard space). Use of balancer for stationary strapping minimizes physical effort.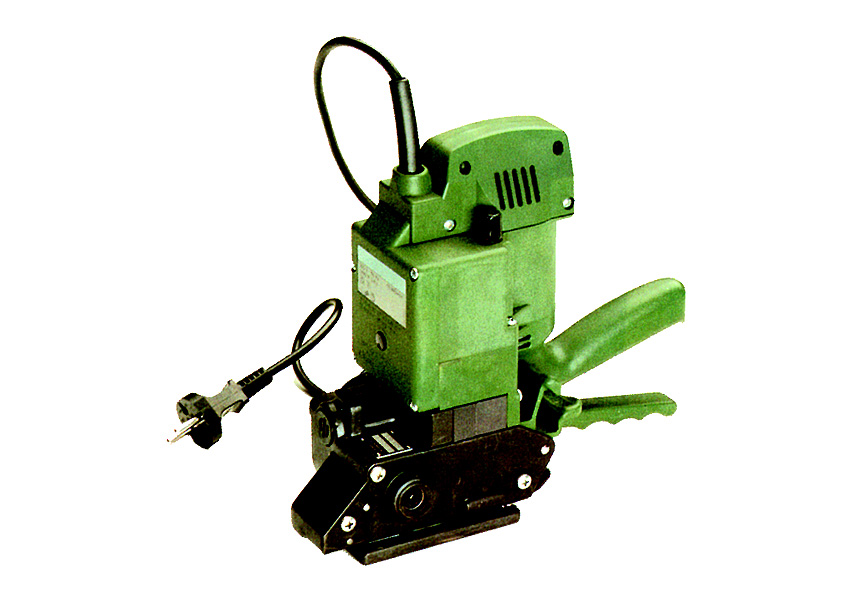 The heavy duty type – electrical tensioning and sealing for straps 12 and 15 (16) mm.
Traditional strapping tool, possibility of multiple tensioning. Very fast tensioning and sealing.
The most sought-after battery powered type – for straps 12-16 mm. Ergonomically designed, ideal balancing. Tensioning force up to 200 kg. Excellent performance ratio. High quality and progressive conception of drive and operation. Battery and battery charger included.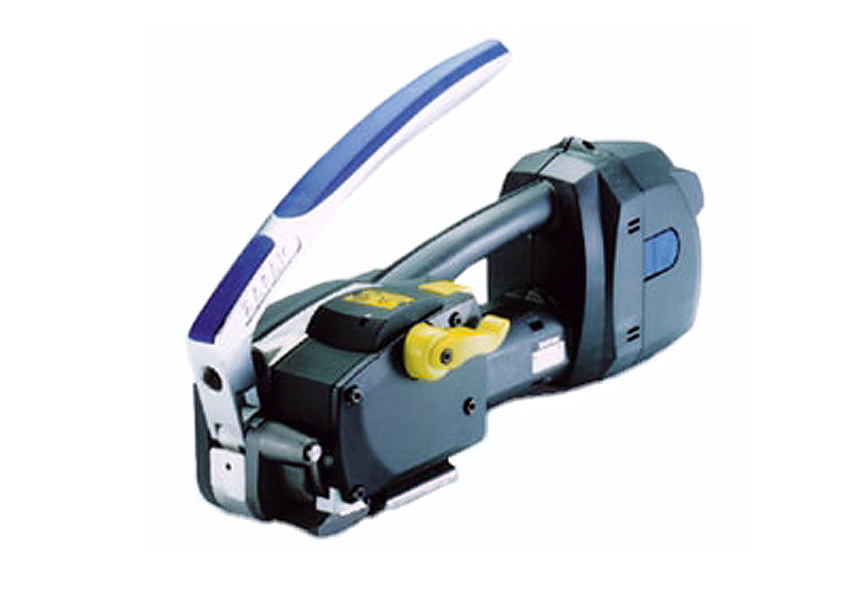 Hand strapping tools for polypropylene straps (PP)
Designed for strapping cartons, unpacked or light-weight palletised products.
Pressed-in seals with steel clip PP type.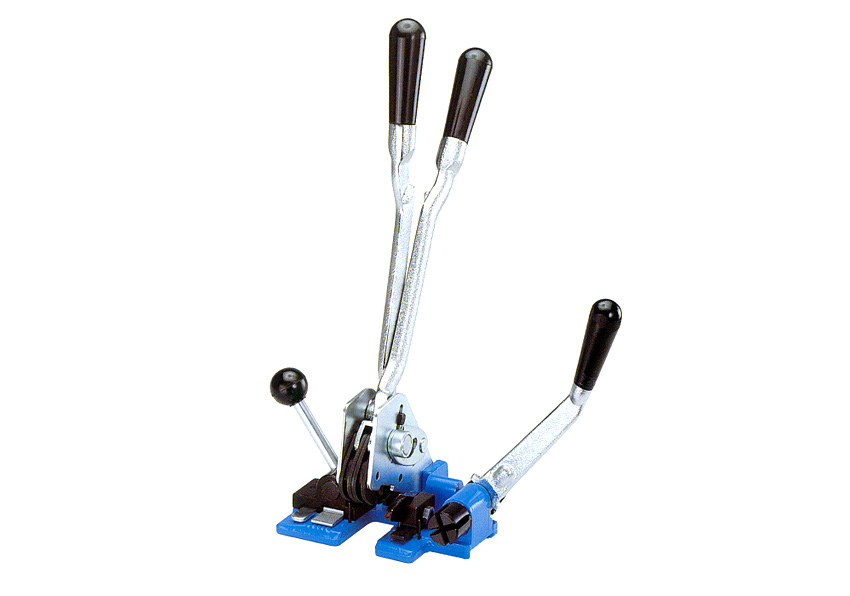 PSP – combination strapping tools
Tension and seal in one – modification for straps 12 mm and 15-16 mm. Suitable for vertical strapping. Sealing by steel clip; by wire or plastic clip when only tensioner is used.
The cost-effective type – modification for straps 12 mm and 15-16 mm.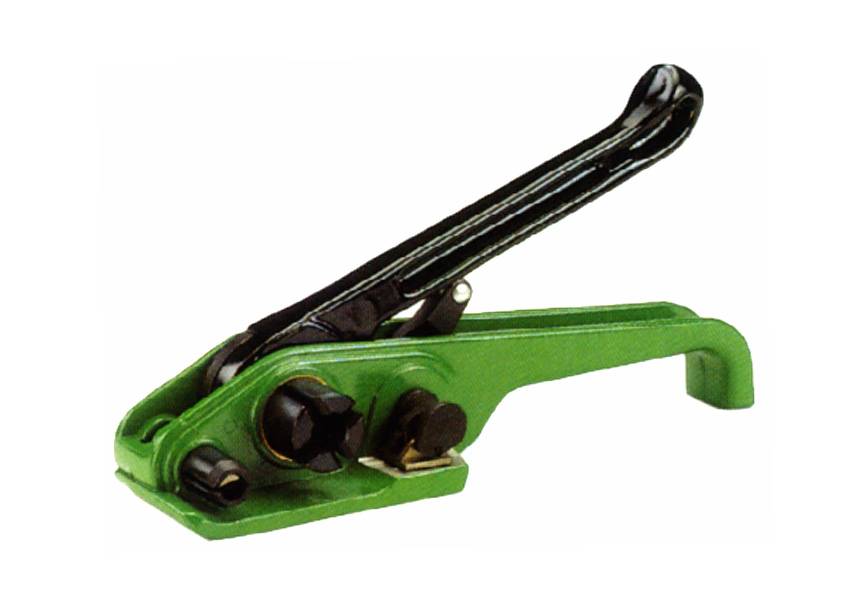 Strapping machines for PP strap
Semi-automatic strapping machines
Ideal for strapping a variety of different products such as prints, cartons, textile, paper currency. Also suitable for furniture strapping and can be used for strapping of ring-shaped products such as hoses, cables, cycle tyres etc.
The multi-purpose type – for PP straps 5,5–15 mm. Adjustable table height.
Engine`s automatic cut-out after certain down-time. Mechanically adjustable tensioning force 5-55 kg.
Automatic strapping machines
Smooth regulation of tensioning force, semi-automatic or automatic cycle. Arch size can be adjusted according to the client`s needs.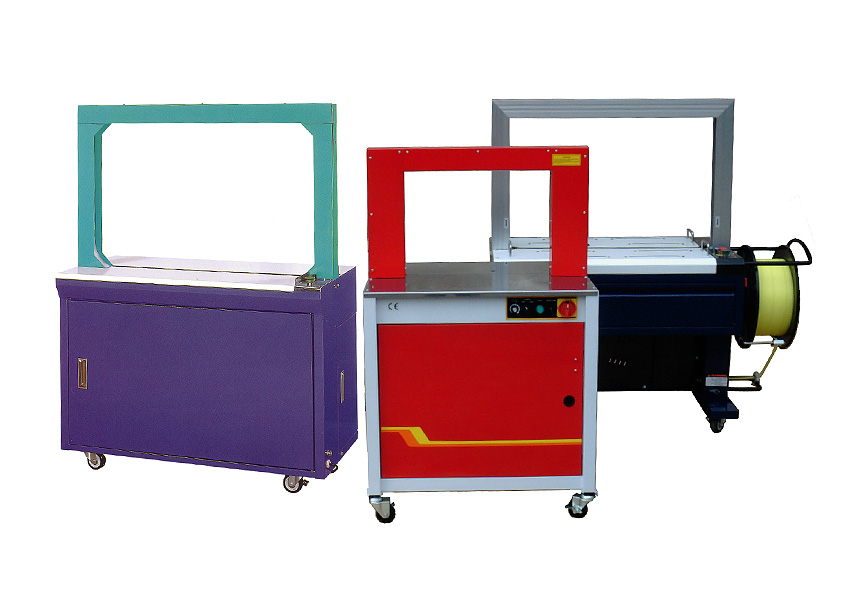 The standard type – for PP straps 10-12 mm or 15 mm. Speed up to 28 straps per minute. Standard arch size 850 x 600 mm. Precise electronic regulation of tensioning force ranging from 3 kg all the way up to 70 kg.
Dispensers for PP, PET and PES straps
Dispensers are a very useful accessory for hand strapping tools. They are produced in a variety of versions for different types of straps.
Dispensers:
prevent unreeling of the strap
prevent damage of the strap caused by possible unreeling
allow easy manipulation with the reel
minimize waste of strap (no need to cut the strap in advance and then throw away unused material).
Dispensers are equipped with storage box for clips and tools. These dispensers are suitable for PP, PET, PES and steel straps.